Fifty years ago, most children with leukemia lived less than one year, and almost none survived.  Now, thanks to advances made at research and teaching hospitals like Doernbecher, most children with leukemia reach adulthood, cured of their disease.  The Kiwanis Doernbecher Childrens' Cancer Program is a partner in furthering these research efforts by supporting the training of the next generation of children's cancer specialists. Applying the expertise they develop through the Kiwanis Children's Cancer Fellowship Program, these young physicians will spend the next 40 years caring for children and seeking cures for currently untreatable forms of cancer.
Kiwanis is a global organization of volunteers dedicated to changing the world one child and one community at a time. In Oregon and southwest Washington, Kiwanis Clubs have collaborated with Doernbecher for over 20 years to treat children with cancer. This partnership would not be possible without the tireless dedication and commitment of hundreds of Kiwanians who spend countless hours in the community selling raffle tickets and organizing events, all for the children at Doernbecher.
The Kiwanis Doernbecher Children's Cancer Program, a 501(c)3 organization, supports the cancer program by raising funds through a variety of activities throughout the year including the Mustang Car Raffle, golf tournaments, bike rides and the sale of limited edition, handcrafted ornaments.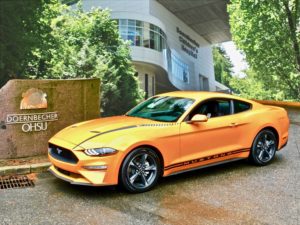 KDCCP acquired this year's 2018, 310hp, 4-cylinder EcoBoost turbo Ford Mustang for the annual KDCCP Doernbecher Raffle car here at Gresham Ford and we have the tickets, $5 each or 5 for $20 and we have them here at the dealership.  The drawing will be held at the State Fair Grounds in Salem on September 3, 2018.  So, you have plenty of time to buy LOTS of tickets and your friends and families too!
For more information on this and all other events through the KDCCP (Kiwanis Doernbecher Children's Cancer Program).