Thanksgiving is coming quickly and if you are like me – you probably will have a little too much Turkey or Pie for that matter but that is not the case with all of our neighbors.  That is why we feel so strongly about Fill-A-Bag and SnowCap Community Charities.  SnowCap makes sure that the neighbors that need a little extra during the Holiday Season get that 40-50 pound food box – not just any food but good nutritional stuff!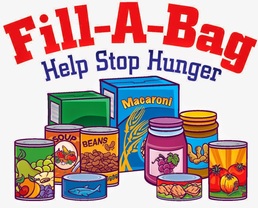 While we always encourage folks to clean out their pantry of non-perishables and drop off the bags here at Gresham Ford, Riverview Community Bank or the City of Gresham – we also encourage you to go online to SnowCap.org and click on Fill-A-Bag Donation Button and make a secure online donation.   Just $10 buys 200 pounds of food for SnowCap.
However, this year we would love it if you would LIKE Fill-A-Bag SnowCap on FACEBOOK.  Then you will get updates of all the events and special contribution programs local businesses are providing to raise money for this really worthy and timely project.   Just last week our friends at Dill's Coffee and Biscuits (separate events) made friends sold coffee and cinnamon rolls  and at the same time raised funds for Fill-A-Bag!
So here is the next opportunity to help SnowCap and at the same time have a great Holiday Experience with the family…..
Saturday, November 25th, don't miss the annual Spirit of Christmas tree lighting celebration at The Center for the Arts Plaza, 200 NE Hood Ave, Gresham from 5pm-6:30pm.  Many local vendors with all kinds of goodies and don't forget to bring your non-perishables for SnowCap.  Look for the Gresham Ford van with the Fill-A-Bag on the side!
Together, we can FILL-THOSE-BAGS for our neighbors for this Holiday Season and beyond!