Drive It Forward – Pay It Forward
Whether we like it or not, this year has raced by bringing us once again to the most awesome season of all, the Giving Season.  As the #DealerWithAHeart we consider Thanksgiving our own personal holiday and like to celebrate by helping our community.   We especially like the "Pay It Forward" concept.  Just a small effort from you can create loads of sunshine to someone's day.  So let's all do it more.  We need all the sunshine we can get going into the grey, cold months ahead.  If paying for a strangers coffee, groceries or meal isn't in your comfort zone we have an easy way for you to help end hunger in East County this holiday Season.

Tomorrow, Friday November 2nd until 4pm Gresham Ford will be hosting our annual Drive 4 UR Community.  This is a great program where Ford Motor Company donates $20 to SnowCap Community Charities for each person that takes a quick spin around the block in a new Ford.  There is no pressure, we just want to raise as much money for SnowCap as possible. So Join Us and help support the Annual #FillABag #FoodDrive effort.  Let's work hard to end hunger in Gresham this winter.
Ford Motor Company wants to "Pay it Forward" too and has created a program to help.  Any customer that purchases a vehicle between November 1st, 2017 to January 2nd, 2018 can extend a $500 offer to anyone of their choosing towards the purchase of a new Ford vehicle. So, if you're in the market for a vehicle, don't hesitate to ask how you can take advantage of Ford's $500 Drive it Forward offer that you can give to a friend, relative, co-worker or even a total stranger!  And that, my friend, is a pretty big ray of sunshine that could definitely brighten someone's day! For more information please give us a call at 503-665-0101 or visit us at GreshamFord.com.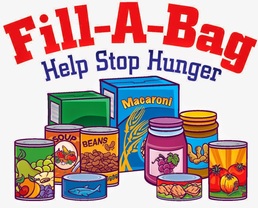 Gresham Ford will continue the pay it forward spirit by sending $25 to SnowCap Community Charities, in conjunction with the Fill-A-Bag food drive, for every person that purchases a vehicle using the $500 incentive! For every $1 donated to SnowCap, they can purchase 20 pounds of food at the Oregon Food Bank, so a $25 donation is 500 pounds food for our hard working neighbors and senior citizens on fixed incomes that struggle through these tough winter months.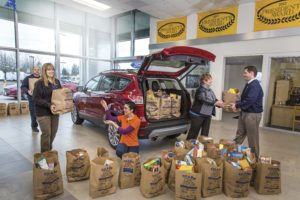 And please bring your non-perishable food donations to the dealership and we will deliver to SnowCap Community Charities on your behalf.  Gresham Ford is locate at 1999 East Powell Blvd in Gresham just a block away from the Gresham Burnside Fred Meyers.